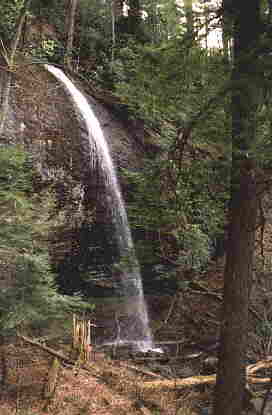 RECOMMENDED SEASON: Spring, Summer, Fall
USE: Heavy
DIFFICULTY: Moderate
USGS MAP(s): Montreat & Craggy Pinnacle
ACCESS:ACCESS #1: On the Blue Ridge Parkway, go to the Craggy Gardens Visitor Center (MP 364.6). The trail head is from the north side of the parking lot.
ACCESS #2: From Burnsville, go east on U.S. #19E .25 mile to NC #197. Turn south onto #197 and stay on it to Pensacola, over Cane River Gap, and on to Barnardsville. Turn left at intersection of NC #197 and NC #2173. Take the left fork and go to end of pavement which is at F.S. boundary across the bridge. The road is now F.S. #74. The gravel road will go for approximately 9.2 miles to dead end where the Halfway trail head is located.
ATTRACTIONS AND CONSIDERATIONS: Halfway Trail runs through a virgin stand of sugar maple and hemlock in the Craggy Mountain Scenic Area. Cascade Falls and Douglas Falls are near F.S. Road #74. Water is available from small streams and existing springs along the trail. Ample parking spaces exist at both ends of the trail. Across the Blue Ridge Parkway from the visitor center is a beautiful view of Asheville watershed area with a reservoir to the south.
DESCRIPTION: The Halfway Trail begins at the parking lot adjacent to Craggy Gardens Visitor Center at Mile 364.6 of Blue Ridge Parkway. The trail descends moderately for approximately .75 mile before going in a series of switchbacks down from Spruce Pine Ridge on north side of Craggy Pinnacle. The trail then crosses Waterfall Creek and continues for .75 mile to another creek crossing from where Cascade Falls can be viewed. At this point the trail makes a turn to the left and descends to Douglas Falls. The trail makes a right to F.S. Road #74 where there is an opening and gently-sloped sites for primitive camping.
From Craggy Gardens this is a very difficult trail to follow, and in the switchback area the trail is not well-maintained. It is much easier to approach Douglas Falls from Access #2 with only a short hike.
---
APPALACHIAN/TOECANE RANGER DISTRICT:
DISTRICT RANGER-USDA FOREST SERVICE
PO BOX 128
BURNSVILLE, NC 28714
PHONE: 828 682-6146
(on US 19 By-pass in Burnsville)
---
© 1995-2002 NCNatural, Last updated