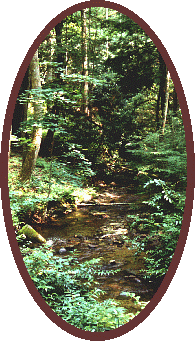 Area highlights;
Trails in the area- Andy Cove Nature Trail, Twin Falls Trail.
Visitor Center/Ranger Station
Information, exhibits, restrooms, a gift shop, a nature trail and exercise trail-- this is a great introduction stop.
Center is located 1.5 miles west of NC 280 on US 276. Phone (828) 877-3265.

Davidson River Campground
A popular campground where you can relax and enjoy the National Forest. There are hiking trails, fishing streams, evening programs and even warm showers.
Sycamore Flats Picnic Area
A large picnic area named for the numerous Sycamore trees that grow along the banks of the Davidson River. 40 Picnic tables, flush toilets, free and open year round. No alchohol in Sycamore Flats.
Forest Heritage Scenic Byway
This scenic byway is the first National forest scenic byway in North Carolina. Traversing the Pisgah National Forest in Transylvania and Haywood Counties, the 79 mile loop winds its way through areas of outstanding natural beauty rich in forest history.
Visitors traveling the Byway will be able to experience a multitude of recreational opportunities. Areas on interest include the Cradle of Forestry in America, Looking Glass Falls, Sliding Rock and Middle Prong Wilderness Areas, camping areas, picnicking areas and rural and forested scenery.
Much of the Byway route follows old settlement roads and logging railroads from the turn of the century. Many of the developed sites were once logging towns, sawmills, or mountain communities. Though much of the forest looks touched only by the forces of nature, the existing vegetation is the new forest that grew from lands logged over during the late 1800's and the early 1900's.
Shenck Job Corps Center
- A residential center operated by the Forest Service for young men 16 to 22 years old. Here they can complete their high school education, learn a vocational trade and develop social skills.
English Chapel - The church was founded in 1860 by Rev. A. F. English who bought the land for $5.00. Built by neighbors so that those living could have their church, this Methodist church continues to serve the community and the Forest visitors.
Coontree Picnic Area
- Cool your toes in the river while you enjoy a picnic lunch. It is doubtful that you'll see any raccoons--they prefer the dark. 10 picnic tables, flush toilets, open yearlong, free. Restrooms are closed in off-season (November to May). Water service may be discontinued to prevent damage to plumbing as weather dictates.
Forest Road 477 Area
About 4 miles from the entrance to the Pisgah Forest Ranger District from the community of Pisgah Forest is the turn off for Forest Road 477. Features along this route include:
---
© 1995-2002 NCNatural, Last updated