North Carolina Storytelling
Back before video and computer games we used to have to occupy ourselves with something called "conversation" which is kind of like talking, except you also have to stop and listen occassionally. Sometimes if we didn't feel like talking, we'd prop up grandpa in the corner with a staff of spirits and let him draw pictures in our heads of great disasters that he remembered - that was called "storytelling". In NC there is a great tradition of storytelling with a direct lineage back to the old world, and now it's even found it's way onto the internet. While you've got the family gathered around for the holidays we hope that you'll find the time to dust off and share some of the old tales that you remember, or explore some of the masters of the tradition from here in North Carolina. We've (finally) put up a page of resources for NC storytelling and we hope to add to it, but you can get started exploring it right now if you like at our NC Storytelling Page.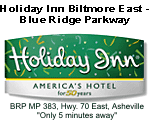 NCNatural Selections
The ultimate resource for books and reference materials for North Carolina.


North Carolina Weather -
More than just the forcast. We've got links to maritime conditions, surf reports, river levels and a lot more.


Event Calendars -
It's certainly not too early to start planning your next NC adventure. Here are the links to whats happening throughout the state.


Music and Festivals -
Spring comes in with music in the air. Get the updates.


Travel Resources-
We've got a lot of resources for helping you plan your next NC getaway, whether it's to the beach, the mountains or anywhere in-between.