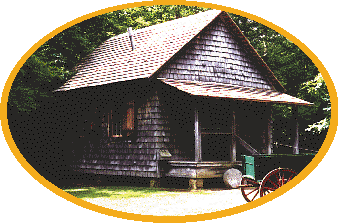 Just about a hundred yards farther down the trail from the schoolhouse is an opening in the forest where the commissary (pictured here) and the Rangers' house stands.
Vanderbilt had a commissary built here in 1902 for his workers and those still living in the Pink Beds area. It was also used a community center.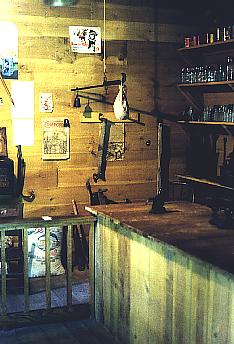 The forestry students bought supplies here and ate a quick lunch of hoop cheese, crackers, potted meat, or corned beef and a can of peaches before going into the field.
Rangers' Dwelling- The exterior of the Rangers' house is pictured on the Pink Beds/Cradle of Forestry page or you can click to view the exterior photo. Vanderbilt purchased this house, including the farm from Hiram King. King was the community leader of Pink Beds and had the finest house in the area. Several students boarded here with Schenck's Rangers--first Jimmy Case and later Ranger Gillespie. The food was plain, some students called Mrs. Gillespie a "stomach robber", who "couldn't heat water, let alone cook."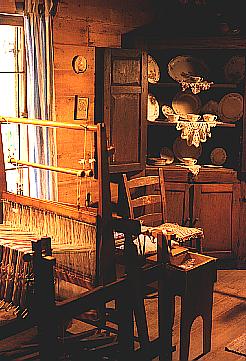 All of the structures along the Campus Trail are furnished with period reproductions. The photo here shows the loom set up inside the Rangers' house.
---