View a map of the area
Highlights;
Harmon Den Area
This area offers good opportunities for dispersed camping, fishing, mountain biking and horse-back riding. A day-use area for horse trailer parking is located on Cold Springs Road (FS #148). There are several horse trails in the area. Many miles of closed roads may be used for hiking, biking or horse back riding. Several access trails lead to the Appalachian Trail. There are many trails that can be connected to make hiking loops.
Murray Branch Recreation Area
This area is 6 miles downriver from Hot Springs, NC. This area offers picnicking, fishing, canoe and kayak access to the French Broad River. Facilities at the area include picnic tables, grills, restrooms, water and two picnic shelters for large groups. An easy 1-mile loop trail is adjacent to the area. Follow it for a bird's eye view of the French Broad River and the surrounding valley.
Silvermine Campground
Group Camping - accomodates up to 75 people. Reservations required: Call 828-622-3202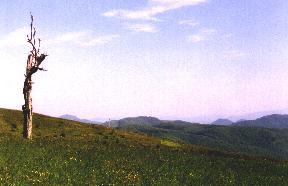 Max Patch Mountain with view towards the southeast
Max Patch Mountain
This 350 acre tract of open land on a high knob overlooks the Great Smoky Mountains and the Black Mountain Range. Purchased to relocate the Appalachian Trail off the highway and onto national forest land, this area has an elevation of 4,500 feet. The area is closed to motor vehicles, although there is road access and parking near the summit, which requires about 1/4 mile uphill walk. Visitors are encouraged to travel the area by foot and enjoy the fresh mountain air and clear views of open country. Many visitors come to Max Patch to camp, fly kites and walk the Appalachian Trail. Max Patch Mountain's 360 degree views offer exceptional sky watching as well when the weather is clear.
Rocky Bluff Recreation Area
This developed camping and picnicking area provides a nature trail to Spring Creek. The 1-mile trail goes through different types of vegetation and forest cover. The area also contains a 3/4-mile hiking trail along the stream. Rocky Bluff is a fee area and provides drinking water, campsites and restrooms, but no showers.
APPALACIAN/FRENCH BROAD RANGER DISTRICT:
DISTRICT RANGER-USDA FOREST SERVICE
PO BOX 128
HOT SPRINGS, NC 28743
PHONE: 828-622-3202
---
© 1995-2002 NCNatural, Last updated