Looking Glass Rock Area
(Forest Service Road 475, FR 475-B, and US 276)
Map of Pisgah Ranger District
Highlights of this area include:
Looking Glass Rock
The name reflects the appearance of the mountain when water freezes on the exposed granite surface and reflects the sun like a mirror.
Looking Glass Rock is a monolithic piece of exposed Whitesides granite that rises from the valley floor in the midst of the Pisgah Ranger District. Approximatelyy 390-400 million years ago, the collision of continental plates caused some earlier sedimentary rocks to melt due to great pressures within the earth, forming large magma bodies which solidified into rocks (Whitesides granite) that were much harder than later rocks which overlay the magma. Looking Glass Rock is the exposed magma body after a lot of erosion.
Trails lead from FR 475 and FR 475-B to the top of Looking Glass Rock.
Looking Glass Rock's sheer faces are popular rock climbing sites during certain times of the year. The rock face is closed off to climbing during Peregrine Falcon nesting seasons. The area is a prime nesting site for the threatened Peregrine Falcon in the southern Appalachians.
Pisgah Fish Hatchery
First the site of a logging community, then a Civilian Conservation Corps camp during the Great Depression and now a hatchery operated by the NC Wildlife Resources Commission that raises thousands of trout for Western North Carolina streams.
Pisgah Center for Wildlife Education
The Center's theme is "Mountain Streams-Where Water and Life Begin". The facility includes an interpretive trail with live and interactive exhibits, a WILD education site, an outdoor classroom, an amphitheatre, raceway (fish) exhibits, a WILD Store Gift Shop and vending services. One of the most important uses of the facility is to conduct statewide environmental education programs for educators and youth leaders.
Group Programs
Three programs are currently being offered that range from 30 minutes to an hour, depending on the age and interest level of the group and number of questions. Most programs are adaptable and can be presented to any age group. Programs can be scheduled for a group of ten or more visitors. Contact the:
Group/Student Tours
Pisgah Center for Wildlife Education
PO BOX 1600
Pisgah Forest, NC 28768
(828) 877-4423
There is no admission charge to the Pisgah Center for Wildlife Education, and all programs and courses are free. the center and its' activities are supported through fees collected from hunters and fishers.
The Programs are

Trout Management-the story of the Pisgah Forest State Hatchery and its' raceways, focuses on the care and maintanence of hatchery fishes from spawning to stocking.
Mountain Habitats-including the wild animals and plants in the Pisgah region, focuses on the three local mounatin habitats: mountain cove forest, spruce-fir forest and mountain trout streams.
Early Conservation-a look at increasing demands on wildlife and the land, examines the history of settlement in western North carolina and the increased use of the areas natural resources. It also introduces several early visionaries who saw a need for wildlife and natural resources conservation and management.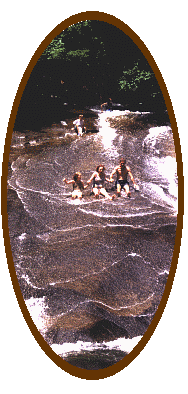 Sliding Rock
A cool place to beat the summer heat. You can either watch or take a slide down Mother Nature's 60 foot smooth rock waterslide and plunge into a pool of cool (cold?) water at the bottom. Bathrooms and showers are open during the summer swimming season and the area is lifeguard protected from Memorial Day to Mid August from 10 AM to 5:30 PM. No alchohol is allowed at Sliding Rock.
Waterfalls
Transylvania County, NC calls itself "Land of Waterfalls" with good reason. Many waterfalls of various sizes are found in the pisgah Forest Ranger District. As a word of caution, always be careful around waterfalls! Mossy covered rocks are VERY slippery and fatalities occur every year on the waterfalls. Particularly stay away from the tops of falls. There is gravity in abundance in such areas.
Slick Rock Falls
Just off FR 475-B, 1.1 miles from the turn off from FR 475 , just past the Fish Hatchery, on the southwest side of Looking Glass Rock.
A small but pretty 30 foot falls spills over a rock ledge near the trailhead of a trail to the summit of Looking Glass Rock.
Looking Glass Falls
US 276 about 1 mile north of the FR 475 Junction.
A beautiful 60 foot high waterfall that can be seen from US 276. Steps lead down to Looking Glass Creek where you can feel the mist from the falls. US 276 here was originally a logging railroad where many trainloads of logs were hauled around the falls during the early 1900's.
Moore's Cove Falls
1 mile north of Looking Glass Falls on US 276. Look for parking near the first bridge north of Looking Glass Falls. A new bridge over the creek leads to the trail, which is .7 mile, and somewhat steep only for the first few hundred yards. The creek does a 50 foot free-fall in front of a deeply recessed rock cliff, that allows you to walk behind the falls.
---
© 1995-2002 NCNatural, Last updated