Hiking Trails
Other Resources
Outdoors In The Triangle

It's a little harder to get lost in the solitude and wildness of nature in the Triangle (Raleigh, Durham, Chapel Hill, NC), but there are plenty of opportunities for indulging in outdoor recreational pursuits. Places to hike, bike or go for a paddle are close at hand for anyone in the area. City, County and State Parks are liberally scattered through the area. Museums and Nature Centers can help take the edge off of rainy days and give a glimpse of the workings of nature. The Triangle actually offers a pretty wide variety of natural experiences.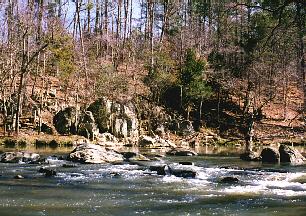 Eno River State Park
One nice thing about the Triangle is that the climate allows for, more or less, year-round activity and still retains the character of 4 distinct seasons. Spring and fall can offer superb weather and even in the winter, there are usually some gorgeous days with bright sun and temps in the upper 50's or into the 60's. In the summer, there are lakes, rivers and swimming pools to cool off in. Some facilities, like boat rentals and concessions, close from November till March or April, but most trails and waterways remain open for traverse. During the week in the off-season you may even get a trail all to yourself.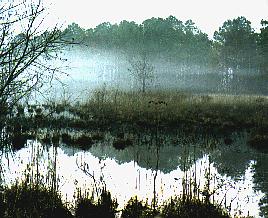 Lake Jordan mist

While researching our Triangle recreation guide, we discovered that there are already many web pages devoted to the subject, so rather than reinventing the wheel, we have provided links to some of the best and tried to fill in some bare spots on our own. There are plenty of opportunities at hand, so use these links to plan an adventure that will rest your soul and give you a greater awareness of the natural world in the midst of the urban landscape.
Hiking In The Triangle
Hundreds of miles of hiking trails are available to Triangle hikers and bikers. Our hiking page points you to the trails and other details about the many parks and recreational areas in the Triangle.
Waterways
Rivers, reservoirs and smaller lakes dot the area, offering plenty of possibilities for water lovers.
Other Resources
Some great museums and nature centers in the area showcase the regional flora and fauna and provide many opportunities for hands-on learning experiences. Other significant natural areas aren't really geared towards sporting pursuits, but are worth checking out for their environmental value. Also, there are many environmental organizations working in a variety of venues. Tune in to see whats up.