How to Photograph Fall Landscapes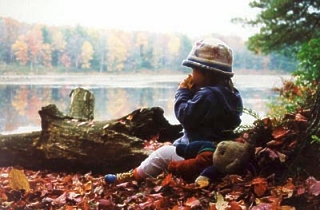 © Chuck DeLaney, NYI Dean
There is no better time of year to take landscape photos than autumn. Those wonderful blue sky days of October naturally lead anyone with a camera to want to record the glorious fall color on film.
So, what are the secrets to photographing those beautiful autumn images? According to Chuck DeLaney, Dean of the New York Institute of Photography (NYI), the world's oldest and largest photography school, the secret is to start by taking a good landscape photograph.
Good landscape photos (and good photographs in general) start by following some simple rules.
First and foremost, is to know the subject of your photography. In the case of all landscapes you would want to look for subjects that capture the theme of autumn. So, before you snap your picture, think about what in the scene in front of you typifies fall. Is it the color of the trees? Is it the leaves on the ground? Emphasizing the elements that say "fall" in your photos, and removing the elements that distract from your subject, is the first step towards taking great autumn images. Be careful that in your joy in viewing a riot of bright color you don't overlook telephone wires, bare branches or other elements that will detract from the photo.
What kind of equipment should you use?
Choice of camera and lens: If you're taking a photograph in daylight and want a 4 x 6 print of the scene before you, you can get good results using even a single-use "disposable" camera. A good point-and-shoot model will also do a great job. The benefit of using a single lens reflex (SLR) in this sort of situation is that the user has a wide choice of different lenses and accessories, such as filters, to enhance the scene.
Film choice: Today's films are better than ever and good landscapes can be made with ISO 400 film as well as ISO 100. The current generation of single use cameras often use ISO 800 films and those will be fine for small prints. Grain and contrast are less of a problem today that ever before.
For more tips on landscape photography and photographing fall color, read the article on the website for the New York Institute of Photography (NYI) at "http://www.nyip.com/tips/fallcolor2002.php".
---
Reprinted with permission from the New York Institute of Photography website at "http://www.nyip.com".
© 1999 NCNatural
Last updated
For information about advertising or webservices, email "[email protected]"