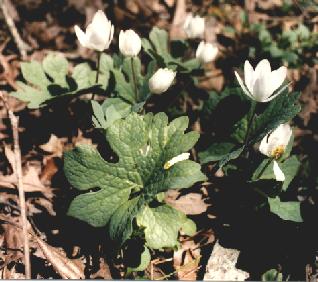 BloodRoot
Sanguinaria canadensis
TOXIC - Do not ingest!
An early spring ephemeral that blooms March to April, mainly in the mountains and piedmont of NC. The flower bud, on a seperate stalk but completely enclosed by the developing leaf, pushes upward through the leaves as one of the first plants of spring.
---
The root contains several alkaloids, most notably sanguinarine, which has shown antiseptic, anesthetic and anticancer activity. American Indians used the root for rhuematism, asthma, bronchitis, lung ailments, laryngyitis and fevers. The red-orange juice from the root was applied to warts, used as a dye and a decorative skin stain. Bachelors of the Ponca tribe used it as a love charm, by applying it to their palms and shaking hands with the woman they wanted to marry. Within 5 or 6 days, the girl would be willing.
Bloodroot works great for the shade or woodland gardener. The early white flowers are a welcome sign that spring is on the way and the bold, green leaves will persist through the growing season.

Range Map