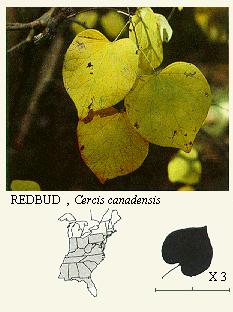 Redbud
Cercis canadensis
The yellow or greenish yellow, heart-shaped leaves of redbud are 5-10cm (2-4") long; the slender brown fruits, or pods, are 4-10cm (ca. 2-4") long and are usually borne in clusters along the branches.
This small tree is somewhat weedy, especially in open, limestone soils and often occurs in large populations. In the spring its masses of dark pink flowers add color to cedar glades and hardwood forests. Because of this spring color and its' small size, Redbud is frequently used in landscaping.
---
compiled from "Fall Colors & Woodland Harvests" & "Fall Color Finder" by Laurel Hill Press
© 1999 NCNatural
Last updated
For information about advertising or webservices, email "[email protected]"