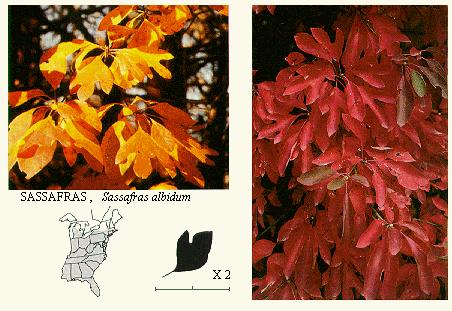 Sassafras
Sassafras albidum
The brilliant yellow, orange, or red leaves of this shrub or small tree are 6-15 cm (2.5-6") long and may be unlobed, have a rounded lobe on only one side, or have two lobes. These plants are dioecious, and the female plants bear fleshy black fruits on red stalks. This is one of our most colorful fall trees along fencerows, roadsides, and woodland margins throughout most of eastern North America.
The bark of the root makes an excellent tea. the very young spring leaves are dried and powdered to thicked soups and stews (the filé gumbo of Creole cooking). The aromatic wood was once used for bedsteads in the belief that the spicy fragrance would repel insects.
---
compiled from "Fall Colors & Woodland Harvests" & "Fall Color Finder" by Laurel Hill Press
© 1999 NCNatural
Last updated
For information about advertising or webservices, email "[email protected]"