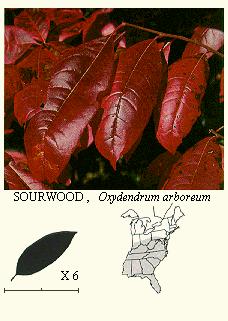 Sourwood
Oxydendrum arboreum
By late August it is not uncommon to see the foliage of young Sourwood trees along the sides of the Blue Ridge Parkway beginning to turn red. The process will continue well into October, at which time these trees are dark to bright red with flat sprays of small green fruits providing a colorful contrast. The elliptic, finely serrate leaves, which may be yellow in heavy shade, are 8-20 cm (ca. 3-8") long and have a sour taste.
Sourwood honey is often available where the trees are plentiful in the southern Appalachians. The trunks of smaller trees (about 15 cm or 6" in diameter), which are often sharply angled, were used for the runners of mule-drawn land sleds that moved material from the outside world into the mountains before the wagon roads were built.
---
compiled from "Fall Colors & Woodland Harvests" & "Fall Color Finder" by Laurel Hill Press
© 1999 NCNatural
Last updated
For information about advertising or webservices, email "[email protected]"