View a map of the area
The Appalachian/Toecane Ranger District receives its' name from the combining of the names of the areas two rivers, the Toe River and the Cane river, and of course the Appalachian Mountains.
Highlights include;
Roan Mtn. Gardens
Over 6000 feet high, this mountain is popular for its' outstanding display of natural purple Rhododendron (Rhododendron catawbiense) during June. White Rhododendron (Rhododendron maximum) grows on the lower elevations. The area has been a recreation spot for many years and offers visitors year-round recreational opportunities such as cross-country skiing, hiking and picnicking. Paved trails and viewing areas are provided for public use.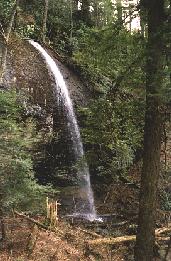 Craggy Mountain Scenic Area
In this 950-acre scenic area, numerous trails exist for the hiker who enjoys rugged terrain. The beautiful Douglas Falls provides a scenic and rustic water setting in the area. Virgin timber, hemlock, poplar, spruce and oaks grow abundantly in the rugged area.
South Toe River Area
Developed picnicking and campground areas, hiking, and bicycling trails, swimming and tubing are offered in this area. The Black Mountain Campground and the Carolina Hemlock Recreation Area are located here. Native trout streams and a bear sanctuary are also located here.
Carolina Hemlock Area
Offers swimming and tubing in the South Toe River. A popular site in the recreation area is the picnic pavillion, designed mainly for large groups. The pavillion seats up to 100 people and many visitors use the site for family reunions. Reservations are required; call the Apppalachian/Toecane Ranger office for details.
The Black Mountain Campground Area
-is located at the foot of Mt. Mitchell and contains four developed areas to accomodate family camping. Two scenic trails offer good hiking along the rugged mountains. A 5.2 mile trail goes up to Mt. Mitchell where a shelter is provided. The Black Mountain Crest Trail leads north from Mt. Mitchell and will take the hiker near Burnsville.
Mt. Mitchell
Mt. Mitchell at 6,684 feet elevation is the highest mountain in the eastern United States. This range, known as the Black Mountain Range, has nine peaks rising above 6000 feet elevation. Along this ridge is a virgin stand of Fraser Fir and Red Spruce that is unfortunately in very bad shape because of acid rain and wooly aldegid damage. The range of mountains is rugged but their is a foot trail to the crest. Dr. Elisha Mitchell, surveyor and botanist, likely travelled this trail during his exploration of the mountain that bears his name. Check out NCNatural's story of Elisha Mitchell and the history of the area. Enter the Mt. Mitchell State Park via NC 128 north of the Blue Ridge Parkway, or reach the summit and nearby campground from access off the Blue Ridge Parkway.
Group Campgrounds
There is one group campground on this portion of the Pisgah National Forest. For reservations at Briar Bottom Group Camp, contact the Appalachian/Toecane Ranger District Office at 828-682-6146.
APPALACHIAN/TOECANE RANGER DISTRICT:
DISTRICT RANGER-USDA FOREST SERVICE
PO BOX 128
BURNSVILLE, NC 28714
PHONE: 828 682-6146
(on US 19 By-pass in Burnsville)
---
© 1995-2002 NCNatural, Last updated