This is an area rich in history, culture, natural beauty and recreational opportunity. While plenty of other websites cover recreation, dining and attractions for our coast, we'll be bringing you info especially pertaining to the natural world and the local ecology as we explore the coastal zone.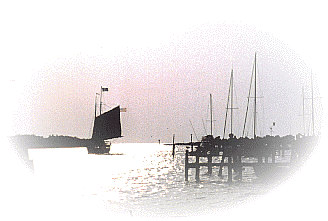 NCNatural Coastal Features

Geologically speaking, our beaches are not very old, and the historical records shows that they are very changeable. Coastal Dynamics offers a primer to some of the forces at work around the islands.




Significant Natural Areas

If you like your ecology on the wild side, we have some islands for you. Just getting there can be an adventure in itself. Many of our barrier islands are only accessible by boat. But, if you're a little bit more comfort oriented, there are also plenty of opportunities to explore the coastal regions with a lot less hardship and in close proximity to soft beds and good restaurants. There is so much to choose from that we had to break it into sections;

From the Virginia State line south to Shackleford Banks near Beaufort. This stretch of beach covers the Outer Banks and the Core Banks, including two National Seashores; Cape Hatteras National Seashore and Cape Lookout National Seashore. The northern section of this part features plenty of motels and recreation with easy accessibility, but the Core Banks in the south is at the extreme opposite end of the comfort zone. It is probably the wildest and most extreme coastal ecology in eastern America.

From Beaufort, NC to the South Carolina State line. The Barrier Islands in this region are closer to the mainland and residential and tourist areas intersperse with wild areas. There are smaller areas of completely undeveloped shoreline that can be more easily visited by you casual ecologists.

For some folks the beach is all about fishing. Now, we have to admit that we're not out there everyday and we're not as expert as some of the folks that are, but we can help give you an idea of what kind of fish are swimming around our region and point you to some excellent sources for the most up-to-date info.

Our resident plant people have been wandering about the dunes and marshes, getting stuck with sand spurs and sunburn so that we can bring you this addition to our Wildflowers of North Carolina pages. Honestly, they didn't suffer too greatly.



Featured Coastal Links
Useful Info
NCNatural Selections
For more in-depth reading about our coast, may we suggest ... Books! Plenty to choose from in the main index, but several sections pertain directly to our coasts.


Better check NCNatural Weather before you go.

Thinking about a swim?

---
© 1995-2002 NCNatural, Last updated